I have been a sucker for Steel Bikes. The vintage looks, plush ride feel, or just a subterfuge for the lower speeds all play a part in my choice, not sure of the order though. This preference was however based on my exposure to years of riding Steel, Aluminum & Carbon frames alone. Titanium was a missing link in this analysis. Our recent build of a bike around the Van Nicholas Skeiron Titanium frame gave me an opportunity to fill up this void.
I rode the bike on two different routes: a 50km hill rep ride with a 950m elevation gain and a 117km road ride with about 600m elevation gain.
In theory, Titanium frames are responsive, stiff & resistant to corrosion (the reason why most Ti frames are polished/brushed and not painted). Unfortunately, I knew this before riding the bike, which influenced my analysis. But here are some things that are undeniable:
The frame is lighter than steel.
It is incredibly responsive and I felt all the power was delivered in the forward propulsion. Even better than some of the entry-level carbon bikes.
The ride feel was extremely plush – comparable to steel and probably better than some carbon frames.
The bike is well-planted and gives immense confidence in cornering and descending.
The looks – the brushed frame with black carbon forks & rims is elegant without having to apply a B&W filter.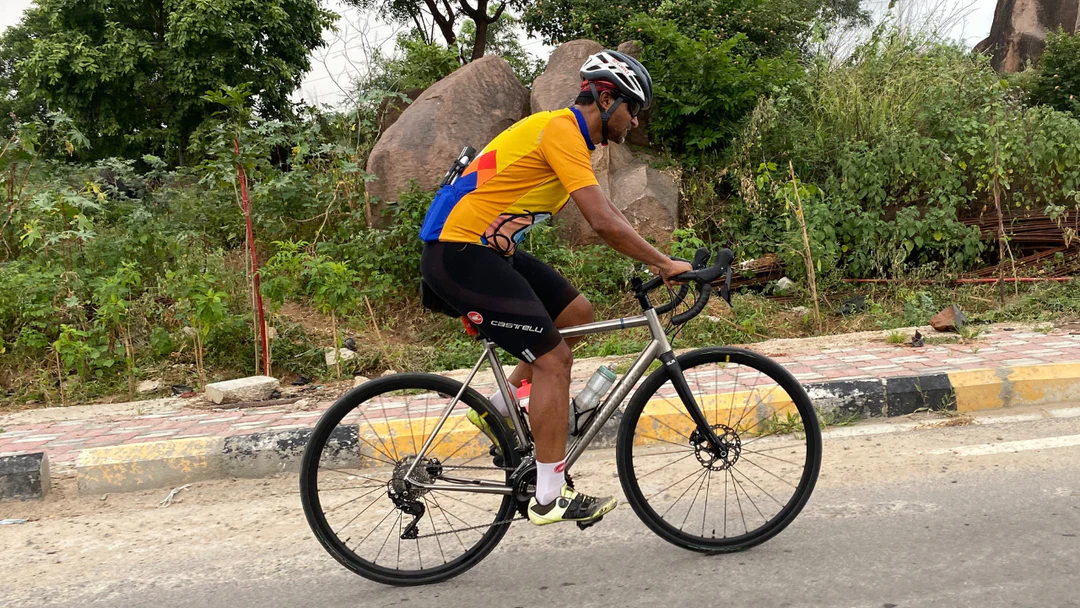 "Other than the handling, most others were on the expected lines of a Titanium frame. I was riding an M frame which is the right size on paper. However, I could have gone lower at the front end to get more aerodynamic. I believe an S frame may also work for me."
During the hill reps I was searching for a term to describe the smoothness of the crank rotation and just as I hit the right term – "makhan", Sampath killed the joy and mentioned that it was probably more attributable to the ceramic BB. This was also my longest ride on a tubeless wheel setup & hydraulic disc brakes.
The final ride experience is influenced by many factors, not just the frame. I will have to add a few of them that contributed.
Other Factors influencing comfort are:
i) The carbon fork
ii) Combination of wider inner diameter rim & tubeless tyre setup with 60PSI
iii) Geometry of frame
Other Factors influencing responsiveness are:
i) Ceramic PF BB
ii) Wheels
I listed these out above as it was difficult for me to attribute which aspect was contributing more or less to the comfort and responsiveness. It is also a great takeaway to upgrade your existing gig to improve these aspects.
Lot of information out there and if you are still trying to answer the question –  "is this one I should look for?". The bike is perfect if:
You enjoy long miles with no power loss yet super smooth ride quality
You plan to do fast and adventurous bike-packing trips
You want to upgrade your aluminium roadie for an enhanced ride quality but don't want to worry much about the fragility of carbon bike 
A bit about the brand Van Nicholas – it's a Dutch company specializing in making Ti frames & components. They make – Road, Touring, MTB & Adventure frames. They claim boldly that
"Nothing Looks Lasts Rides like a Van Nicholas"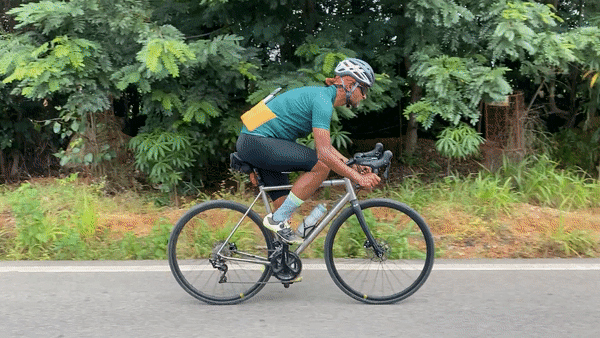 | | |
| --- | --- |
| Frame | Van Nichloas Skeiron M Size |
| Fork | Van Nicholas SLR (Super Lite Race) Carbon |
| Wheels | Mavic Kysrium S D CL |
| Tyres | Pirelli Cinturato Velo 700*28c Tubeless |
| Groupset | Shimano 105 Hydraulic Disc Brakes |
| Bottom Bracket | Tripeak BB86 PF Ceramic |
| Handlebar | Shimano Pro LT Compact L |
| Bartape | Burgh Stealth Silk |
| Seatpost | Controltech SL Al Alloy |
| Saddle | Selle Italia Novus Boost Evo Superflow |
The Van Nicholas Skeiron frame presently retails for ₹2,47,500.