One of the things that I learned from Dr. Maxwell Trevor is that belief is the most important thing. When I started contemplating Everesting post-lockdown, I was so unsure that I didn't dare to tell myself that I will attempt it.
So I picked a day when we were going for a walk with my family and explained to them about Everesting and that I want to attempt it. They know well that I am crazy, so they casually asked me to go ahead and do it. They probably didn't fathom the immenseness of this one, but it was good.
Once I decided, I knew that an effort like this is meaningless as just another individual challenge. So I decided to do this for a good cause and raise awareness and funds. What better cause than helping Dr.Maxwell Trevor Cycling Academy. So I first called my dear friend Khiyar Pasha and asked him if he can discuss this with Dr.Maxwell sir, and get his permission and blessings for this.
Usually, I am a little reluctant to ask for help. I realized that this effort needed powers beyond me, and I needed to seek out the entire cycling community's support.
When I explained to my colleagues about Everesting, Chitti jumped in and said that he also wanted to ride. I initially thought he was kidding because he hasn't been training much for the last few years, but I realized he was serious after a few minutes. He had the belief, and that was enough.
All this happened around the middle of August. The next decision was to pick a date. I don't particularly appreciate riding in the dark, so my initial thoughts were around starting early morning and finishing it before it is very late in the night. However, my partner Krish had been chatting about this with a friend Chiranjit Inti. Chiranjit had mentioned that we should instead look to ride in the night to avoid the heat. I decided to take that advice. I was lucky that I took his advice. So I checked the moon calendar and found that October 2nd early morning was a full moon. It sounded like a good omen as the date was perfect, on a Friday, a public holiday, and a full moon. It also gave me sufficient time to train. I had been training regularly; the focus and goal did change, though.
Once I decided, I started the preparation. I split the preparation into the following areas:
1. Training
2. Nutrition planning
3. Route Identification
4. Equipment
5. Crew preparation
Training:
Climbing is all about watts per kg. So the key aspects were to increase my FTP and lose about 10kg. I managed to lose about 7kg but was happy given the time available.
With immediate effect, I stopped the sweets and chocolates. I am anyways a vegan and eat mostly home food, so this wasn't very difficult. I ride a few times a week on my trainer and use sufferfest. So was focused on the threshold and vo2 efforts. Additionally, I made sure I had at least one day per week of 4 -8 hrs of riding with about 2000-3000m of elevation gain. I was targeting a weekly elevation of about 5000m.
I wanted to do a ride of 4500m of elevation gain. But that particular day, there was heavy rain in the middle of the workout, and I had to abandon the ride halfway. This was eating me away as I had done a max of 3500m elevation gain in a day. Generally, it is recommended to do at least one ride of 50-60% of the target elevation gain. But I realized that we don't control everything and lived with this.
The most challenging part of a structured plan is to taper. Any person who has studied coaching principles will say it works. But it is tough to implement; I was very disciplined this time and used the spare time to catch up on much-needed sleep. The additional rest was very beneficial as I was very fresh on the day of the climb and lasted the night without sleeping very easily.
I had riding partners – Krishna Kunam, Ankit Reddy, Rajesh, and Chitti join me on my training rides as it was very boring to do alone. I was very concerned about tackling boredom – listening to music, fine-tuning a routine for each lap, and the six mental habits from "The Bat" sufferfest workout were my go-to ways to kill boredom.
In Everesting, you have to go up and come down the same way and not form a loop (downhill cannot be in a different route). So we have to take U-turns at the top and bottom. In the section chosen, there was a flat part at the beginning of the uphill side. My focus was to take a sip of water/energy drink mix, reset my lap on my Wahoo, and ensure I build speed up to the start of the climb. It worked well initially on D-Day till I started getting very tired.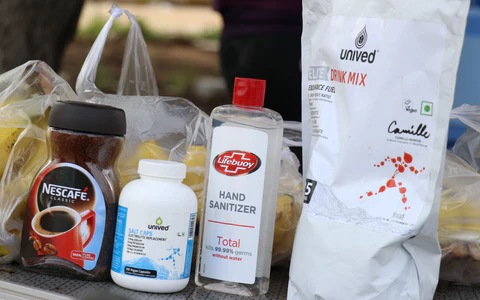 Nutrition:
Gautham Pothineni is an excellent friend, an ultra runner, and a certified nutritionist. He was kind enough to help me with thorough nutrition planning. We analyzed all the long rides to monitor energy expenditure and see what products work based on how I felt during and after the workout. He suggested Unived's Elite drink mix, and that worked very well.
I don't drink enough fluids on the bike. So I also decided to use the Unived Salt capsules to manage electrolyte losses. I have had a history of cramping on big days and tried this during the entire training phase and never cramped.
For recovery, I was using Fast & Up's plant protein and Unived's recovery mixes. The energy drink mix was giving 190 cal per serving. We wanted about 250 cal per hour. So the plan was to have one bottle of energy drink per hour with one salt capsule and every 4 hours to have a recovery mix and regular easy-to-digest food.
Gautham wanted me to go off caffeine ten days before the event. We did this to increase caffeine's impact as a stimulant and ward off sleep during the event. It was tough to do, but I was determined and managed to stay off caffeine leading up to the event.
Gautham advised me against carb loading. We both agreed that it will not increase the stored glycogen much and may increase my weight. However, as per his advice, I ensured that my hydration was sufficient in the days before the event.
The entire nutrition plan worked perfectly and was a key reason for our success.
Route Identification:
I shortlisted a few hills and rode them at different times of day to finalize. For this effort, I considered the following.
Anantagiri hills near Vikarabad – decided against this for the following reasons:
The downhill side of the road was in bad shape, and I was forced to come on the wrong side.
Being a ghat section riding in the night can be dangerous with animals etc
There was a lot of tourist traffic
Being 80km away from Hyderabad would make it difficult to get support
Whisper Valley – This was ideal but for the traffic. Also, there were a lot of dogs at the night. I am scared of dogs and do silly things when they even think of coming near me.
Movie towers – Not enough elevation, and, generally, I'm not too fond of the climb. If I am going to climb it 100-200 times, it is important that I like the climb
BNR hills – This is what we chose. It's a new road, and the only issue was that it was a very gradual climb. But it was our best choice.
Equipment:
I rode my Chapter 2 Tere with Sram Red ETap groupset and Token carbon wheels. The Tere is an all-round racing frame and is a great climber as well. Professional racers use the same frame in races, so I couldn't have got a better frame.
The wheels were a little deeper than required, but that is the best wheel I had. Sampath changed my crank from the massive Sram Force 53/39 to the Rotor inPower oval 50/34 crank with an integrated power meter.
Sampath's Merida Reacto 400 would be the spare bike. I rode both bikes with different setups and got everything tuned. I would record my activity using Wahoo Elemnt Bolt, and Chitti would do it with a Garmin 520 Edge Plus.
I planned to carry only one water bottle and removed the second bottle cage. A single-bottle cage would also make it easy to drink a bottle every hour.
Chitti rode a Specialized Roubaix with Vittoria carbon wheels. We wanted to build his Merida Scultura 400 frame but couldn't get all the parts in time.
Given my inhibition with riding in the dark, I bought cycling glasses with an interchangeable lens from Tifosi. My Endura sunglasses is photochromatic but doesn't become entirely clear at the night. The Tifosi clear lens improved visibility in the dark. I bought a new set of shorts and ensured I rode at least 300km in them before the event. Some new shorts have thicker padding, which may alter the effective saddle height and flatten after a few rides. My new short was a bit thicker and the training rides helped in the padding slightly flattening and not messing up the saddle height.
Crew:
My crew in charge Pasha came to the BNR Hills road a couple of times when I did my long rides. We had arranged toilets, plug points, etc.
I was fortunate to have such a great support system. Roads were swept off the construction gravel, and we had people taking turns in giving us a massage.
We prepared checklists of things to carry, and key roles, and split the day into multiple shifts to identify owners and tasks for each shift.
Krishna Kunam had prior experience in leading the support team for Deccan Cliffhanger, and he suggested many vital points in planning and execution.
D Day:
The day started with a lot of hype and excitement. Dr. Maxwell Trevor flagged us off. I often start too fast, and it was the same on this day. My heart rate was 10 bpm higher than planned. I kept telling Maxwell sir, and he advised me to slow down a bit. I think a combination of excitement and the heat pushed the heart rate higher. After sunset, my heart rate came down, and I fell into a good rhythm.
There was a hint of drizzle at 5 pm, but it was short. We planned to stop every 14 laps for a <5 min break and every 4 hrs or three sets of 14 laps for a more extended food break. The plan worked well, and we had the food on time.
I was using the Cateye 1100 lumen headlight, which was very powerful and made even my ride in the darkness without issues.
I had set the Led zones on the wahoo elemnt bolt to guide me on the heart rate intensity in the dark. It worked well, but I should have picked up the tempo a bit more.
The first signs of fatigue started with the dawn. Adhip began to ride with me at 4 am, and he analyzed each lap and gave tips on where I could pick up some speed at the bottom.
As the day wore on, the heat took a heavy toll on me. Around noon, I had a chat with the core team. I felt it was becoming challenging to last 14 laps between breaks. Also, I just felt more comfortable focusing on the targets by breaking them down. I always wanted to go for 10k. But at this point, I figured that I would concentrate on everesting get it done and refresh and restart for the 10k target. I told the team I would take a call on 10k after everesting. They pushed me to go for 10k but agreed to prioritize on Everesting first.
I don't know where I got this clarity, or probably it was straightforward, and I still haven't recovered after close to a day. But this was very helpful. The team endorsed my decision. We had about 28 laps to go for Everesting. So we decided to take it as three sets of 10 laps each. This was a key moment in the effort. I could not even remove my shoes, so without this approach, it could have gotten messed up.
After pulling through for the everesting distance, I took a shower on the side of the road, changed for the third time, had my lunch, and was ready to roll.
Chitti was riding a bit slower than me. We had decided that we will not do any celebrations so that he could focus on his attempt. But he understood I had crossed the mark and got a fresh lease of mental strength and started pushing hard.
From everesting to 10k, there were 25 laps; we split into three sets of 9,8,8. Chitti finished his Everesting around 5:45 pm, finishing with an all-out effort in his last lap. Shortly after, I crossed 10k, and we had a small get-together to acknowledge everyone's efforts and called it a day.
It was a well-executed plan. However, I do have a few learnings.
More training rides with pacers and a better pacing plan. 
Create a well-defined set of things to check and analyze the performance during the breaks.
Anyone can run the first 20 miles of a marathon; the good ones have better control of the last 6. This principle applies to every endurance event. A smart way to train for this in a shorter time is to ride harder initially to simulate the fatigue and then complete a 1000m climb.
Don't leave anything to chance. I had planned to charge my wahoo while riding and arranged power banks and ensured it worked. However, I did not check this when fixed to the out-front mount. This mount didn't allow us access to the charging port. However one of the volunteers helped with a regular mount with which we could charge it while riding.
At last, we believed, and we did it. I was a chubby kid who wasn't into sports in my childhood. If I could do it, anyone can. Just start believing.
I hope you enjoyed reading this article. It's truly inspiring to see how my efforts have motivated Sampath to achieve the same feat the following year. If you're curious to learn more about his journey, make sure to check out his blog by clicking here.